Colombia Gen Santoyo turns himself in over drug charges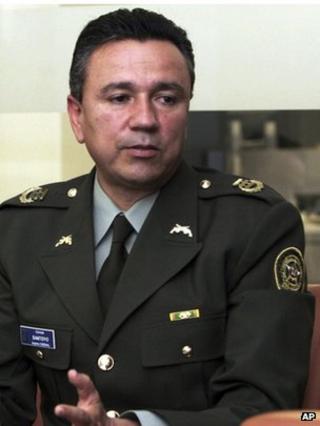 Retired Colombian police Gen Mauricio Santoyo, who is accused of drugs offences in the United States, has turned himself in.
Gen Santoyo is accused of helping drug gangs and right-wing paramilitaries smuggle cocaine to Mexico and the US.
He allegedly committed the crimes while serving as the head of security for the president at the time, Alvaro Uribe.
Gen Santoyo turned himself in to US Drug Enforcement Administration (DEA) agents in Colombia's capital, Bogota.
Local media said Gen Santoyo was taken in a DEA plane to the US state of Virginia, where he has been indicted on conspiracy to distribute cocaine "knowing and intending that it would be unlawfully imported to the United States".
He is the highest-ranking Colombian officer to face charges of drug trafficking in the US.
'Double agent'
According to the indictment by the US District Court for the Eastern District of Virginia, Gen Santoyo helped a drug gang called Office of Envigado and right-wing paramilitaries of the United Self Defence Forces of Colombia (AUC) to smuggle cocaine from Colombia through Mexico and Central America to the United States.
He allegedly provided intelligence information collected by the Colombian security forces to drug traffickers.
Prosecutors say this included information about the whereabouts of rival dealers, who would later turn up dead, presumed killed by the drug traffickers to whom Gen Santoyo had handed the information.
The indictment also accuses the general of tipping off drug dealers about impending security operations by the Colombian forces, the DEA and British counter-narcotics agents.
The prosecution says that in exchange for his help, the AUC and the Office of Envigado paid Gen Santoyo sizeable bribes.
Gen Santoyo said he was certain he would be able to rebut all the charges made against him.