Haitians protest against Port-au-Prince shanty eviction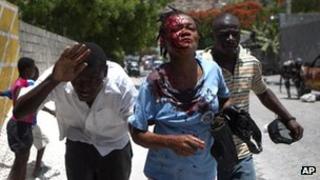 More than 1,000 people have marched in the Haitian capital Port-au-Prince in protest at government plans to clear poor neighbourhoods.
Police fired tear gas to disperse the protesters, some of whom chanted threats to burn down affluent neighbourhoods.
The government says their homes, perched precariously on steep hillsides, are at risk from landslides.
The residents say they cannot afford to live anywhere else.
The eviction plans are part of a government flood-control project.
An official from the environment ministry, Pierre Andre Gedon, said the government would build channels and reforest the hillsides in Jalousie in an attempt to curb the flooding which affects the capital in the rainy season.
The government is still struggling to house tens of thousands of people displaced in the 2010 earthquake, which devastated much of Port-au-Prince.
One of the protesters said he felt the poor were being unfairly targeted.
"These decisions are always made against the poor; the rich have huge homes that aren't affected," he told the news agency.
Minister for Human Rights Rose-Anne Auguste said the government would offer new homes to those displaced by the project.
"We can't allow people to endanger their lives in slums that can collapse any moment," she said.