Mexico election: Protest group 'I am 132' holds debate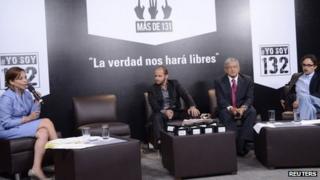 Three of Mexico's presidential candidates have taken part in an online debate organised by a student protest movement known as #YoSoy132 (I am 132).
Josefina Vazquez Mota, Andres Manuel Lopez Obrador and Gabriel Quadri answered questions over the internet.
But front-runner Enrique Pena Nieto, the main target of the group's protests, declined to take part, saying the debate would not be neutral.
Mexicans go to the polls on 1 July to elect a new president and Congress.
Ms Vazquez Mota of the governing National Action Party (PAN), Mr Lopez Obrador of the Party of the Democratic Revolution (PRD) and Mr Quadri of New Alliance (PANAL) responded to questions sent in by students.
All three welcomed the initiative to organise the unofficial debate.
Topics ranged from indigenous rights to the future of the state oil monopoly Pemex to control of Mexican media and telecommunication sectors.
The #YouSoy132 movement argues that the election coverage of the two main broadcasters has favoured Mr Pena Nieto of the Institutional Revolutionary Party (PRI).
Protesters also say a vote for him would represent a return to the past as the PRI governed Mexico uninterrupted for 71 years until 2000.
Debate's impact?
Mr Pena Nieto thanked the debate's organisers for inviting him but declined.
In a letter to the I am 132 movement's leaders, Mr Pena Nieto said that they had "adopted a political position against myself and my policies".
"In a democracy, it is absolutely valid to demonstrate openly against any person or policy," he wrote.
But Mr Pena Nieto said that the group's position would not guarantee conditions for an equal debate to take place.
Technical problems disrupted the streaming of the debate on YouTube but it was carried by various websites and a couple of radio stations.
The debate was unprecedented, says BBC Mundo's Ignacio de los Reyes, but it is difficult to gauge how many people it reached or whether it did anything to change the electoral panorama.
The latest opinion polls continue to give Mr Pena Nieto a double-digit lead over Mr Lopez Obrador and Ms Vazquez Mota, with Mr Quadri trailing in fourth place.