Haitians abroad get more rights with new constitution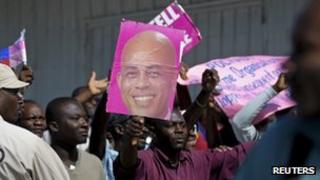 A new constitution has been published in Haiti, giving some two million citizens living abroad the right to own land and run for public office.
President Michel Martelly said the new text would allow Haitians to hold dual nationality.
"This matter was creating division between the diaspora and people here in Haiti," said Mr Martelly.
Remittances from Haitians living in the US and Canada have a huge impact on the economy of the Caribbean country.
Haiti is one of the poorest countries in the Americas.
Its capital, Port-au-Prince, was hit by a devastating earthquake in January 2010. Thousands of people still live in tent cities.
The new constitution was approved by parliament in May 2011.
President Martelly initially opposed the right of Haitians to hold dual nationality and tried to persuade legislators to change the text.
But he finally bowed to international pressure and signed it.
"All Haitians are Haitians," he said after the signature at a ceremony at the presidential palace.
Marleine Bastien, a leader of the Haitian community in the US, told the AP news agency that she was pleasantly surprised by the decision.
"I think it was overdue," said the founder of Haitian Women of Miami. "It show that he understands the great positive impact that the diaspora can play in the future of Haiti."