Mexico crime reporter found killed in Veracruz state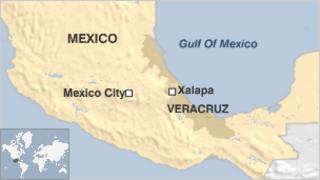 A Mexican crime reporter has been found dead in the centre of Xalapa, the state capital of Veracruz, hours after being abducted.
Victor Baez is believed to have been seized late on Wednesday night.
Nine journalists have now been killed in Veracruz over the past 18 months, officials say.
Mr Baez's killing comes a week after state governor Javier Duarte announced the formation of a commission to protect journalists.
Mr Baez covered the police beat for the Milenio newspaper, and also worked for a website called Reporteros Policiacos.
His body was found early on Thursday morning, officials said.
In a statement, the Veracruz state government condemned his killing and promised a full investigation of "this abominable crime".
It is not clear who was behind his death but authorities are working on the assumption that it was an organised crime gang.
"We won't permit them to impose fear on us as a way of life," the governor's spokeswoman, Gina Dominguez, said.
Last month, the dismembered remains bodies of two missing journalists, Gabriel Huge and Guillermo Luna, were found in Boca del Rio in Veracruz.
Just days earlier, another reporter, Regina Martinez, was killed in Xalapa.
On 7 June, Mexico's press freedom day, Mr Duarte announced that he was sending a bill to the state congress to create a commission to assist and protect journalists.
The exact remit of the commission has still to be decided.
Mexico is one of the world's most dangerous countries for journalists, with many killings blamed on drugs gangs.
The state has been the scene of a bloody battle for control of drug-trafficking routes between two of Mexico's gangs - the Zetas and the Gulf Cartel.