Brazil biofuel: Shell axes 'illegal' sugar cane plan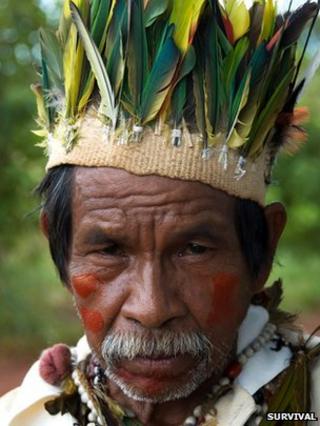 A biofuels company set up in Brazil by oil giant Shell has signed a landmark agreement giving up plans to buy sugar cane grown on indigenous lands.
The company, Raizen, was obtaining some of the raw material for ethanol from farmers who encroached on the lands of the Guarani people in Mato Grosso do Sul state.
The deal comes after months of pressure by the Brazilian authorities.
Indigenous leaders have welcomed the agreement.
Raizen said in a statement that the deal "shows the company's commitment to combine sustainable development with the well-being of the local communities".
Campaign group Survival International described Raizen's decision to back away from ancestral Guarani land as "historic".
But it warned that the tribe's future continued to be threatened by illegal logging and farming on their lands.
Valdelice Veron, an indigenous Guarani in Mato Grosso do Sul state, says their rivers have been polluted by pesticides.
"We will be able to drink water from our land again. We will be able to start afresh," she told Survival International.
Booming demand
Raizen was established in 2010 as a multi-billion joint venture of Shell and Brazilian ethanol company Cosan to produce ethanol from sugar cane.
The company says it produces 2.2 billion litres of ethanol every year, for export and to supply the Brazilian market, where cars that run both on petrol and biofuel are very popular.
In the deal signed with Brazilian indigenous agency Funai, Raizen says it will not source sugar cane from any land declared by the Ministry of Justice as belonging to indigenous tribes.
The agreement comes into force in November.
The Guarani are Brazil's largest indigenous minority, with around 46,000 members living in seven states.
Many others live in neighbouring Paraguay, Bolivia and Argentina.
The group suffers from a severe shortage of land in Brazil, which has worsened as a boom in agriculture has led farmers and ranchers to extend their holdings.
Indigenous activists say farmers in Mato Grosso do Sul frequently use violence and threats to force them off their ancestral territory, and that the local authorities do little to protect them.
Guarani leader Nisio Gomes, 59, has been missing since November.
His community says he was shot dead by masked men in front of them. Brazilian police say the case is unclear and his body has not yet been found.