Cuban boxing champion Teofilo Stevenson dies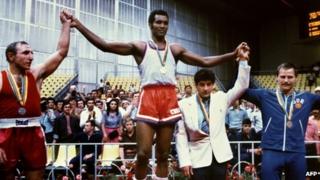 Former Cuban heavyweight boxer Teofilo Stevenson, who won three Olympic gold medals, has died at the age of 60.
State media said he had suffered a heart attack.
In the 1970s, US boxing promoters offered Stevenson $5m (£3m) to turn professional and fight then world heavyweight champion Muhammad Ali.
But the boxer stayed loyal to the Cuban revolution, which outlawed professional sports, and refused. He said: "I prefer the affection of eight million Cubans."
Stevenson was born in Las Tunas province in eastern Cuba and fought his first bout at the age of 14.
He went on to win gold medals as a heavyweight in three consecutive Olympic Games - 1972 in Munich, 1976 in Montreal and 1980 in Moscow - and was widely considered the greatest amateur boxer of his time.
"The Olympic Games in Munich and Montreal are the fondest memories I have from my life, the best stage of my career," he told AP news agency earlier this year.
Boxing fans were keen to see him go up against Muhammad Ali in what they hoped would be the "fight of the century", but Stevenson turned the offer down.
The boxer - known in Cuba by the nickname "Pirolo" - missed a shot at a fourth Olympic gold when Cuba joined the Soviet boycott of the 1984 Games in Los Angeles.
He announced his retirement in 1988 after Cuba decided to skip the Seoul Olympics as well.
After retiring, Stevenson became a coach and served as vice president of the Cuban Boxing Federation.
Reporting his death, state newspaper Juventud Rebelde said Cuban sport had lost "one of its greatest exponents of all time".