Van der Sloot faces US extradition after Peru jail term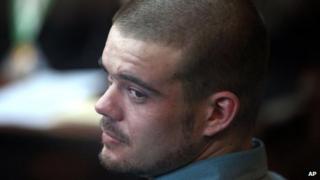 The Peruvian Supreme Court approved the extradition to the US of Dutchman Joran van der Sloot but only after he serves a jail term in Peru, documents show.
He is accused of involvement in the disappearance of US teenager Natalee Holloway, last seen in Aruba in 2005.
The court ruled that he must first serve a 28-year sentence in Peru for the killing of a young Peruvian student, Stephany Flores.
Van der Sloot, 24, was convicted in January after pleading guilty.
Ms Flores, who met van der Sloot at a Lima casino, was found dead in a hotel in the Peruvian capital in May 2010.
Court documents show that the Supreme Court justices cited a long-standing US-Peru extradition treaty in making their decision last month, the Associated Press reported.
The court's ruling is not final. It still needs to be approved by the Peruvian justice minister and the cabinet.
Aruba mystery
Van der Sloot's lawyer, Maximo Altez, said he would appeal against the Supreme Court decision.
"We were surprised by how quickly the extradition request was heard. We think there is a lot of pressure from the US government."
Mr Altez said his client would not get a fair trial in the US.
"He's been demonised by the press. He would be judged by a jury made up of common people who are influenced by the press," said Mr Altez.
Van der Sloot could be released after less than 10 years, if he shows good behaviour in prison.
In the US, Van der Sloot is the main suspect in the disappearance of student Natalee Holloway in 2005.
She went missing during a graduation trip to the Caribbean Dutch island of Aruba, where Van der Sloot grew up.
He faces charges of extortion and mail fraud charges in the US state of Alabama. Ms Holloway's family accused him of asking thousands of dollars in order to reveal where her body was buried.
Van der Sloot had told police he killed Stephany Flores after she used his laptop in Lima and learned of his connection to the Holloway case.
Ms Flores was murdered five years to the day after Ms Holloway was last seen.
In January, a judge in Alabama declared Ms Holloway dead, as the result of a petition filed by her father.