Guatemalan 'Peace Cardinal' Quezada Toruno dies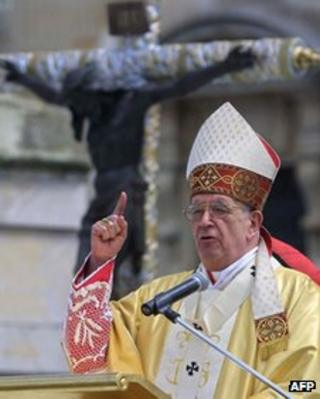 The man who presided over the peace process in Guatemala, Cardinal Rodolfo Quezada Toruno, has died aged 80.
He played a key role in negotiations that led to the end of the bloody 36-year civil war in 1996.
Cardinal Quezada Toruno was the official mediator between the government and left-wing rebels from the National Revolutionary Unity.
At least 200,000 people were killed during the civil war.
The Guatemalan Catholic Church said he died in hospital in the capital, Guatemala City, due to a stomach blockage.
Cardinal Quezada Toruno became known in the central American country as the "Peace Cardinal of Guatemala."
Guatemalan Nobel Peace Prize winner Rigoberta Menchu highlighted the cardinal's role in opening up dialogue between the two sides and described his death as "a great loss to the country".
Guatemalan President Otto Perez Molina has declared three days of national mourning.
Quezada Toruno led the National Reconciliation Commission from 1987 to 1993, and later negotiated the final peace agreement, signed in December 1996.
After the end of the conflict, the United Nations set up a truth commission to investigate thousands of cases of human rights abuses.
It concluded that the army, which ruled the country during most of the civil war period (1960-96) had committed the vast majority of the violations.