Venezuela arrests Colombian drug lord Diego Rastrojo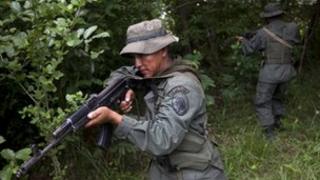 A top Colombian drug lord, Diego Perez Henao, has been arrested by police in neighbouring Venezuela.
Accoridng to the Colombian authorities, he heads Los Rastrojos, a drug cartel that has grown quickly in the past four years, exporting tonnes of cocaine to the United States via Mexico.
Perez Henao, also known as Diego Rastrojo, became the leader of the cartel at the beginning of May.
The Venezuelan government says it will hand him to the Colombian authorities.
Venezuelan Justice Minister Tareck El Aissami said Perez Henao was captured on Sunday in the border state of Barinas on information provided by the Colombian authorities.
Mr El Aissami described him as "one of the most wanted criminals in the Americas".
According to police in Colombia, Diego Rastrojo controlled half the members of the paramilitary criminal organisations involved in drug trafficking in Colombia.
The BBC correspondent in Colombia, Arturo Wallace, says Diego Rastrojo was "one of the last old-style drug lords still operating in Colombia."
He was said to have 800 hitmen under his command.
Diego Rastrojo became the leader of Los Rastrojos when his main associate, Javier Antonio Calle Serna, known as Comba, surrendered to the US authorities nearly a month ago.
Comba handed himself in to agents of the US Drug Enforcement Administration on the island of Aruba.