Families of Mexico drugs war victims berate candidates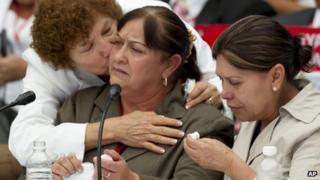 Families of people killed or missing in Mexico have met the four candidates in July's presidential poll to demand more be done to end drug violence.
One by one, the candidates faced a barrage of criticism.
Javier Sicilia, whose son was murdered by suspected hit-men last year, accused the politicians of failing to highlight the plight of victims.
Some 50,000 people have died and more than 5,000 are missing since the crackdown on cartels began in 2006.
Monday's face-to-face meeting between the candidates and representatives of the Movement for Peace with Justice and Dignity took place at Mexico City's Chapultepec Castle.
"In your worst nightmares, you couldn't imagine what it is like to lose your child," Margarita Lopez, whose daughter disappeared in Oaxaca, told the meeting.
"We are thousands of mothers with disappeared children."
'No deal'
Mr Sicilia, a leading figure in the relatives' movement, greeted each candidate before training harsh words on them.
"You represent a party that after 12 years leaves a huge graveyard of a country as an inheritance," he told Josefina Vazquez Mota, who is the candidate of President Felipe Calderon's National Action party (PAN).
Ms Vazquez Mota apologised but urged the relatives not to give in to despair.
"Yes, Javier, I ask forgiveness for any omission on the part of our governments," she said.
Ms Vazquez Mota insisted that she would not come to some agreement with organised crime in a bid to lessen the violence.
Mr Sicilia also attacked front-runner Enrique Pena Nieto of the Institutional Revolutionary Party (PRI), which was in power for much of the 20th Century.
Mr Pena Nieto represented a return to a past that was the origin of the corruption of the country's institutions, Mr Sicilia said.
"How many criminals have gone unpunished and are still in your party?" Mr Sicilia asked.
Mr Pena Nieto repeated his pledge to tackle murder, kidnapping and extortion.
"If the conditions don't change, if we don't give Mexican society more equality, more opportunities and better economic conditions, there won't be a security strategy to achieve peace that works," he said.
Andres Manuel Lopez Obrador of the leftist Party of the Democratic Revolution (PRD) was berated for his "intolerance" and "political resentment" after he narrowly lost the 2006 election to President Calderon.
PRD members were also guilty of corruption, Mr Sicilia said.
"If Mexicans, in a democratic form, decide on real change, I will represent you (members of the movement) with dignity. I won't trick you," Mr Lopez Obrador said.
Fourth-placed candidate Gabriel Quadri de la Torre did not escape criticism.
Mr Sicilia doubted his credentials as a "citizens' candidate" given that he was backed by the leader of the powerful teachers' union.
Mr Quadri said he was "moved, terrified and angered" by the families' accounts.
The families' movement has been calling for an end to the militarisation of the drugs problem and for it to be seen as a health rather than national security issue.
Critics of the movement say its anger is wrongly focussed on the government instead of on the criminal gangs responsible for the violence.