Chile evacuates Freirina pig processing plant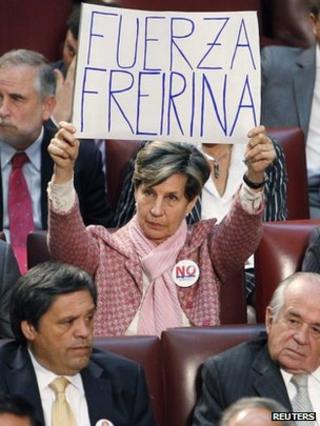 Authorities in Chile have begun to evacuate nearly half a million pigs from one of the largest meat processing plants in Latin America.
Pigs started dying at the site after local residents, angry about the foul smell, rioted and blocked access.
The government has ordered the plant to be closed and all the animals to be removed to prevent a potential health disaster.
The evacuation of the surviving animals is expected to take six months.
The plant is located in in Freirina, 500 miles (800km) north of Santiago in the country's Atacama region.
The BBC's Gideon Long, in Santiago, says that local residents had been complaining about the smell from the plant for months.
Last week, after protests that culminated in riots and arrests, they successful blocked the entrance to the plant.
Plant workers were prevented from entering and the animals began to die.
Authorities declared a health alert in the area and temporarily closed the plant, worried that the overflow of waste could leak into drinking water.
Agrosuper, the firm that owns the plant has said it is burying the corpses of the dead pigs in specially prepared pits and the site is being disinfected.
The firm has since admitted that there were problems with the slaughtering plant's ventilation system.