Argentina identifies Dirty War victim from 1976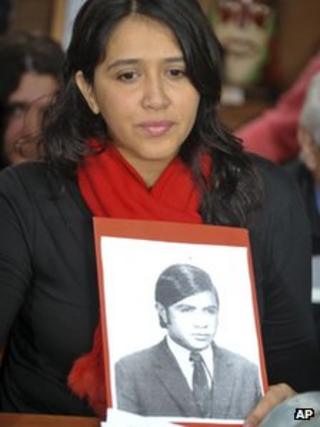 Argentine forensic experts have identified the remains of a body that washed ashore in Uruguay in 1976.
DNA tests showed that the remains were of Roque Orlando Montenegro, who disappeared a month before the Argentine military took power.
Evidence suggests he was on a death flight, in which political opponents were thrown alive into the sea.
Mr Montenegro's daughter, Victoria, was brought up by an army couple and only discovered her own identity in 2000.
She fought back tears as she announced that her father had been identified thanks to the "unwavering work" of the Argentine Forensic Anthropology Team.
"We have recovered my father's remains, Roque Orlando Montenegro, known as Toti, who was only 20 years old when he disappeared," she said.
Her parents were left-wing militants from the People's Revolutionary Army (ERP).
In February 1976, a month before the military coup, the Montenegros, including Victoria who was just a few days old, were kidnapped and disappeared.
She was raised by an army colonel's family.
Twenty-four years later, using DNA tests arranged by the human rights movement Grandmothers of the Plaza de Mayo, Ms Montenegro found out about her real identity.
Her DNA sample helped the forensic anthropologists to establish that an unnamed body discovered in a cemetery in Colonia del Sacramento in Uruguay was that of her father.
The remains of her mother, Hilda Ramona Torres, have never been found.
Human rights groups estimate that up to 30,000 people were killed or disappeared in Argentina's "dirty war" from 1976 to 1982.
The Grandmothers of the Plaza de Mayo, whose own children were disappeared, have identified dozens of sons and daughters of victims of the military repression.
But some adopted children have said they would rather not know their origins, especially if the information implicates their adoptive parents in illegal acts.