Mexicans march for more security in Guadalajara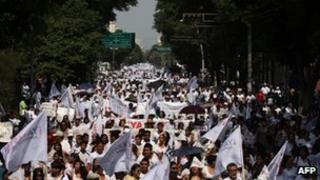 Around 30,000 people have been holding a peace march in the Mexican city of Guadalajara.
Dressed in white and walking in silence, participants demanded increased security for the city's residents.
Guadalajara, in the west of Mexico, has seen a steep rise in violence blamed on warfare between rival drug cartels.
Earlier this month, 18 mutilated bodies were found dumped outside the city.
The protest was called by the University of Guadalajara after 11 of its current and former students died in the recent surge of violence.
University of Guadalajara head Marco Antonio Cortes Guardado demanded that "the authorities meet their constitutional duty of protecting their citizens".
"We believe the government must act quickly and efficiently to counter the rampant criminality which is affecting us all," Mr Cortes Guardado said.
Student union leader Marco Antonio Nunez Becerra told the Jalisco state government to "solve the murders, or get out".
The western state of Jalisco, of which Guadalajara is the capital, has witnessed a series of gruesome murders in the past year.
On 9 May, an anonymous tip-off led police to two cars abandoned outside the city, in which the remains of 18 people had been dumped.
Officials said a threatening note found in one of the cars suggested the Zetas drug cartel was behind the killing.
Around 50,000 people have died in drug-related violence in Mexico since President Felipe Calderon came to power in 2006.