Mexico extradites 'drug kingpin' Sergio Villarreal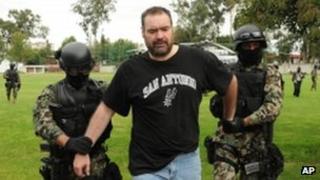 Mexico has extradited a suspected drug lord to the United States.
Sergio Villarreal, known as El Grande (Big One) because of his height, is facing charges of drug trafficking and money laundering in a court in Texas.
Police arrested Mr Villarreal in a raid east of Mexico City two years ago.
He is alleged to have been the top lieutenant in the once-powerful Beltran Leyva drug cartel, accused of smuggling large quantities of cocaine, marijuana and heroin to the US.
A former policeman, Mr Villarreal is alleged to have worked for a number of criminal organizations before joining the drugs cartel led by Arturo Beltran Leyva.
Mr Beltran Leyva was shot and killed by the Mexican navy in December 2009, sparking a brutal fight for control of the cartel.
His brother Hector took over the leadership of the cartel.
Mexican authorities say continued infighting and the arrest of all of its major leaders except for the still-fugitive Hector Beltran Leyva have led to the cartel being disbanded.