Peru dolphins not killed by oil blasts, says minister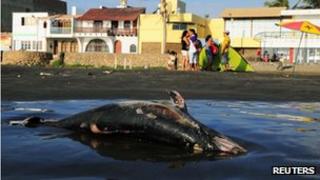 A Peruvian minister has denied claims that explosions used in oil exploration are to blame for the deaths of hundreds of dolphins.
Fisheries Minister Gladys Triveno said a government investigation showed that natural causes were to blame.
She contradicted a study by an environmental group which suggested that explosions had caused the deaths.
The animals have washed up along Peru's northern coastline since the beginning of the year.
Ms Triveno said the official government report by Peru's Maritime Institute (Imarpe) ruled out oil exploration, or infection by a virus or bacteria, as triggers for the deaths of the dolphins.
"We have reached the conclusion that the deaths were from natural causes. It's not the first time that this has happened," Ms Triveno said, citing similar cases of dolphin deaths in New Zealand and Australia.
She was speaking on Peruvian radio hours before the release of the official government report.
'Food problem'
However, environmental group Orca said it had tested 30 dead dolphins and found they had broken ears and damaged organs, consistent with the animals suffering from decompression sickness.
Orca has blamed the deaths on the noise and pressure waves caused by explosions it linked to oil exploration in the area.
Along the same stretch of shoreline, thousands of sea birds have also been found dead over the past months.
Ms Triveno announced there would be a separate report into the death of more than 1,200 pelicans, but that she could already rule out a bacterial or viral infection.
She said their deaths were related to a "food problem".