Farc rebels kill 12 Colombian soldiers in border ambush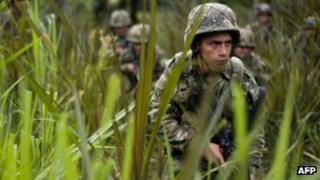 Colombian officials say Farc rebels have killed 12 soldiers in an ambush near the border with Venezuela.
A security official in the northern department of La Guajira said the troops were attacked during a routine patrol.
The army said it was still trying to find out if any rebels or other soldiers had been killed.
Venezuela has reacted by beefing up security along the border.
Mr Chavez went on state television to make the announcement.
"We maintain our position, that we will no permit incursions of any armed force, whatever its type might be, into Venezuelan territory," he said.
He said Venezuela would not allow rebel groups to use the country as a base for attacks against Colombia.
"This conflict is not ours. We defend peace and insist that our territory is not used by either side in the conflict."
Mr Chavez was accused by previous Colombian governments of harbouring the rebels from the Farc, a claim he has always rejected.
The area where the attack took place is very remote and mountainous, inhabited mostly by ethnic indigenous populations.
According to a Colombian security official in La Guajira, Yusti Maria Lopez, four soldiers were also wounded in the ambush.
"Regional and national official are drawing up a toll," she told AFP news agency.
"We are not ruling out that there were guerrilla dead too, but that's being analysed by the army."