Dominican Republic's Danilo Medina declares election win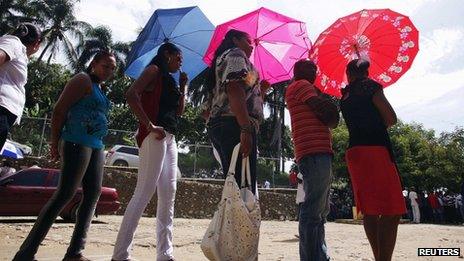 The governing party's candidate in the Dominican Republic's presidential election, Danilo Medina, has declared victory.
Mr Medina won 51% of the vote, avoiding a run-off next month.
But the result is being contested by the opposition, which accuses the governing party of buying votes and other forms of fraud.
Mr Medina's main rival, former President Hipolito Mejia, received 47% of the ballot but has not yet conceded.
Rising crime, unemployment and inflation in the Caribbean country were the main issues of the campaign.
Mr Mejia's vice-presidential candidate, Luis Abinader, told the AP news agency that his party would present a report detailing irregularities in the vote.
"We are going to defend democracy. We are going to show the country what really happened," he said.
Mr Medina addressed a crowd of supporters in the Dominican Republic and promised to reduce inequality.
"I was not waging a political campaign, but building a dream," he said.
"Now we have the opportunity to build that dream, working for a Dominican Republic that is fair to all."
Opinion polls had suggested a tight race, with the outcome possibly decided by the ballots cast by Dominicans in the United States.
Dominican President Leonel Fernandez is constitutionally barred from seeking a third term.
His Dominican Liberation Party (PLD) chose Mr Medina, a 60-year-old economist, as its candidate.
Mr Medina ran on a promise of boosting economic growth in the Caribbean country.
Mr Medina's opponent is an old rival - Mr Mejia is an experienced politician who defeated him in presidential elections in 2000.
Mr Mejia, 71, from the Dominican Revolutionary Party (PRD), campaigned under the slogan "Llego Papa" ("Here's Daddy").
He vowed to fight corruption and create jobs.
The Dominican Republic is one of the most popular tourist destinations in the Caribbean, and the economy has been growing steadily, at about 4.5% a year.
But more than 30% of its 10 million citizens still live below the poverty line, a problem both Mr Medina and Mr Mejia promised to address.