Dominican Republic election: Issues and candidates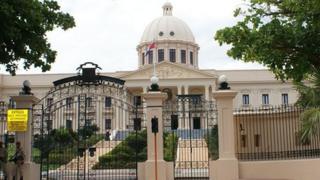 The Dominican Republic is holding its presidential election on 20 May.
The race is predicted to be close, so overseas voters, the vast majority living in the US, could play a crucial role.
Two old adversaries are fighting to replace incumbent Leonel Fernandez who is constitutionally barred from seeking a third consecutive term.
Who is running?
Danilo Medina: Opinion polls put Mr Medina, of the governing Dominican Liberation Party (PLD), just ahead of Hipolito Mejia of the Dominican Revolutionary Party (PRD).
Mr Medina, a 60-year-old economist, former government minister and congressman, promises to "sort out what is wrong, continue doing what is fine and do what has never been done".
Mr Medina is promising to lower poverty rates and boost economic growth.
The opposition has accused the governing party of spending vast state resources on his campaign - charges it rejects.
One of Mr Medina's best allies is the vice-presidential candidate, Margarita Cedeno, the current First Lady who is seen as having a wide support base.
Hipolito Mejia: With his slogan "Llego Papa" (Here's Daddy), Mr Mejia, a 71-year-old agronomist, promises to fight corruption, create jobs and "strive for a better country for all".
He is bidding to return to the job he held from 2000 to 2004.
But many voters remember that during his presidency, the Dominican Republic experienced a major financial crisis.
Mr Mejia's campaign has also suffered from his verbal gaffes. During a trip to New York to court the Dominican-American vote, he made a controversial, and incorrect, remark about Barack Obama's African heritage.
The voters
Some 6.5 million Dominicans are registered to vote.
Key to the election are the nearly 300,000 voters - around 5% of the electorate - living abroad.
For the first time, expatriate voters will also be able to elect representatives to Dominican Congress.
Problems
The Dominican Republic has seen sustained growth of some 4.5%. But there have been protests in recent months against the high cost of food, medicine and petrol.
The energy sector is also overstretched, with blackouts common.
Rising crime rates are the biggest concern for voters, according to a recent poll. Crime has almost doubled in the last decade. Analysts variously attribute this to easy access to guns, drug-related violence and social inequality.
In an open letter to the candidates, human rights group Amnesty International said abusive police methods contributed to the security problem by alienating large parts of the population.
Official statistics show 10% of murders in 2010 were by police officers.
Challenges
Relations with neighbouring Haiti: Immigration policies were eased after the Haitian earthquake in 2010. But two years on, mass deportations of Haitians have resumed.
Some Dominicans blame Haitians for taking their jobs, spreading cholera and being behind the rising crime rates.
Children of undocumented migrants born in the Dominican Republic are not considered Dominican citizens. Many do not have access to education or health services.
Wealth gap: Some four million of the Dominican Republic's population of 10 million live in poverty, according to a 2010 report by the Economic Commission for Latin America and the Caribbean (Eclac).
The gap between rich and poor is widening and unemployment runs at 14% - one of the highest rates in Latin America and the Caribbean.
New markets: Some 60% of exports go to the American market and remittances from Dominicans living overseas are put at $1.5bn (£940m) annually, figures from the International Monetary Fund show.
Reducing the dependency on the US economy and finding new markets in China and Europe is key, according to Cesar Cuello, an analyst at the Latin American Faculty of Social Sciences in the Dominican Republic.