Argentina ex-human rights official charged with embezzlement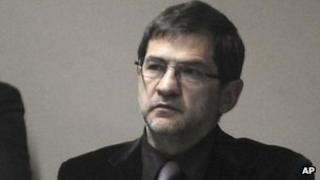 A former top official with one of Argentina's leading human rights movements has been charged with embezzlement.
Sergio Schoklender is accused of stealing more than $156m (£97m) from the Mothers of the Plaza de Mayo.
The funds in question were donated to build housing for the poor.
The Mothers have marched every week for 35 years to demand information about their children who went missing during the country's military dictatorship.
It is estimated that 30,000 people were kidnapped and murdered in the 1970s and early 1980s by extremist right-wing groups or by the military government that seized power in a coup in 1976.
Most of the victims' remains have never been found.
In recent years the Mothers of the Plaza de Mayo have evolved to embrace other social causes, including managing the Shared Dreams housing programme.
The organisation received tens of millions of dollars from the government to build homes for the poor.
Mr Schoklender, the former financial manager of the Mothers movement, allegedly diverted funds to buy property, a Ferrari, planes and a yacht.
His brother, Pablo, and an accountant at a construction company they formed, Alejandro Gotkin, are also being investigated.
Sergio Schoklender, who resigned from the Mothers of the Plaza de Mayo about a year ago, has asked for the right to respond to the charges which also include money laundering.
In the past he has denied any wrongdoing and says he can explain his earnings and his lifestyle through other income.
The Schoklender brothers came to national attention in 1981, when they were jailed for torturing and killing their parents. They said they had suffered years of parental abuse.
The financial scandal has cast a shadow over the Mothers of the Plaza de Mayo group, which recently marked 35 years since it was founded.