Abducted Honduras reporter Alfredo Villatoro found dead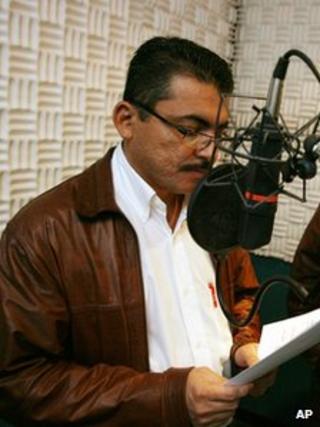 Honduran journalist Alfredo Villatoro has been found dead on the outskirts of the capital, Tegucigalpa, a week after he was abducted.
Mr Villatoro, a radio reporter, was dressed in a police uniform, Security Minister Pompeyo Bonilla said.
He had been kidnapped by a gang of young men on his way to work on 9 May.
Rights groups say more than 20 reporters have been killed in Honduras since a 2009 coup that ousted the then president, Manuel Zelaya.
Following his abduction, his employers at the HRN radio station said Mr Villatoro's captors had been in contact with his family to confirm they were holding him, but gave no further details.
Mr Villatoro had reported receiving death threats.
Mr Villatoro's abduction came just days after the disappearance and subsequent death of journalist and gay rights campaigner Erick Martinez.
Mr Martinez's body was found by the roadside in the village of Guasculile, north of Tegucigalpa.
Local media quoted police as saying Mr Martinez's body showed signs of strangulation.
Honduras has the world's highest murder rate and pressure groups say journalists face a growing risk amid a rise in drug trafficking and organised crime.