Brazil unveils social programme for low-income families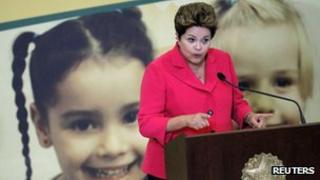 Brazilian President Dilma Rousseff has launched a raft of social programmes for low-income families with young children.
Ms Rousseff said she would expand the popular social programme Bolsa Familia created by her predecessor Luiz Inacio Lula da Silva.
Families with children under six living in extreme poverty will get $35 (£22) a month for each family member.
The government said the programme would benefit 18 million people.
Ms Rousseff said it would also expand access to day care and health care.
The project aims to help a section of the population which already receives government aid, but which so far has not managed to escape extreme poverty.
Ms Rousseff said it would become "the most important weapon in the fight against infant poverty".
The president said that despite Brazil's economic progress over the past years, there were still people living in abject poverty, and that many of those were children and adolescents.
The government will allocate funds for health care, in particular for nutrition, and for the construction of 1,500 day care centres.
Ms Rousseff said day care centres not only brought "health, education, food, diversion and hygiene" to children, but also allowed mothers to work, thereby "attacking the problem (of poverty) at its root".
In the area of health care, she announced measures to combat anaemia and Vitamin A deficiency, as well as plans to distribute asthma medication free of charge.
The programme is targeted in particular at low-income families in Brazil's north and north-east, where drought has further increased the suffering of those living in absolute poverty, according to President Rousseff.