Tension high outside Venezuelan jail after shootout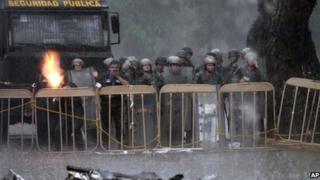 Tension remains high outside a Venezuelan prison where hundreds of inmates began rioting 11 days ago in protest at plans to close the jail and move them to other facilities.
Heavy gunfire was heard for a couple of hours on Tuesday from inside La Planta prison, in the capital, Caracas.
There was panic outside, where relatives had gathered desperate for news.
They threw stones at the police, who responded with tear gas.
La Planta prison, in the capital, Caracas, is being closed after two escape attempts.
Many of the inmates have already been relocated, but hundreds have refused to be moved.
They say they fear for their lives if they are transferred to other already overcrowded jails.
Human rights organisations have repeatedly criticised conditions in Venezuelan prison system.
An evangelical vicar who has been mediating the standoff told El Universal newspaper that the inmates at La Planta jail were hoping to reach a peaceful solution.
But he says they remain adamant and will not accept relocation.