Colombia rejects Farc deal on journalist Romeo Langlois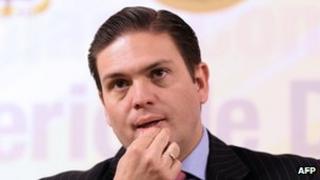 The Colombian government has refused to accept conditions demanded by the Farc rebel group on the release of French journalist Romeo Langlois.
Defence Minister Juan Carlos Pinzon said he would not argue with criminals.
The Farc had said they would free the reporter only if the government engaged in talks on freedom of information.
Mr Langlois vanished 10 days ago while filming soldiers destroying cocaine laboratories. It is not known whether he is still alive.
On Monday, a statement published on a rebel-run website declared Mr Langlois "a prisoner of war".
Signed by the Farc's General-Secretariat, its ruling body, the statement accused journalists who go on operations with the armed forces of manipulating the news rather than informing the public.
It also called for a national and international debate on freedom of information in exchange for allowing Romeo Langlois "to regain his full freedom of movement".
The statement seems to contradict a series of messages posted on Sunday on a Twitter account thought to belong to the Farc, which said Mr Langlois would "soon be released safe and sound".
Mr Pinzon said the Farc had no right to impose conditions of any kind.
"This criminal organisation carries out terrorist attacks, is involved in drug trafficking, recruits underage kids and is involved in countless crimes," he said.
"No way will we engage in any kind of debate. They must free him as soon as possible."
The Interamerican Press Association (SIP) also rejected the conditions imposed by the Farc on Mr Langlois' release.
SIP President Gustavo Mohme said making his release conditional was against international rules and practices.
Mr Langlois disappeared on 28 April while travelling with the army in the southern department of Caqueta to make a documentary about the fight against drugs and illegal mining.