Mexico election: TV debate sees candidates trade barbs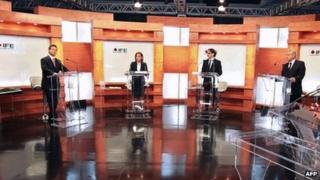 Mexico's election race has stepped up a gear with the four presidential hopefuls facing one another in their first TV debate ahead of July's poll.
Front-runner Enrique Pena Nieto of the Institutional Revolutionary Party (PRI) faced sharp attacks from his rivals.
The barbed comments enlivened a rigidly controlled format, correspondents say.
But it is unclear how many voters were watching, with the main TV channels opting to show a dance show and a football match instead.
Mr Pena Nieto began the debate highlighting Mexico's "worst economic performance in 80 years" during the last two administrations of the National Action Party (PAN).
He is hoping to return the PRI, which governed Mexico for much of the 20th Century, to power after a 12-year absence.
'Knives sharpened'
The PAN's candidate, Josefina Vazquez Mota, who is aiming to be the country's first female president, attacked Mr Pena Nieto's own economic record when he was governor of the State of Mexico.
Brandishing a magazine article, she also accused him of lying about cutting the murder rate during his term as governor.
"There are two ways of lying: one, not telling the truth and the other, making up statistics."
Andres Manuel Lopez Obrador, of the Party of the Democratic Revolution (PRD) also produced photographs of Mr Pena Nieto with key figures from previous PRI administrations.
"Why do the people who really control the country want Pena Nieto to be president?" he said.
"The answer is obvious... they want to continue with their policies of pillage."
Mr Pena Nieto, who has a wide lead in the opinion polls, said his two main opponents appeared to have agreed on a form of attack.
"They've come with their knives sharpened," he said.
Perhaps the surprise of the night was outsider Gabriel Quadri from the New Alliance (PANAL), who portrayed himself as the anti-politician and refrained from personal attacks, says the BBC's Will Grant, in Mexico City.
Mr Quadri later told the BBC that the format of the debate prevented any genuine discussion.
"I think that the moderator has to have a more active role because the politicians just answer what they want even if that doesn't have anything to do with the questions."
The two-hour debate covered a range of issues, including the economy, job creation and Mexico's drug-related violence that has claimed some 50,000 lives.
The candidates spoke of the need to boost the police and maintain troops on streets until security has improved, but there were no new proposals, correspondents say.
A second debate is set for 10 June.