Mexico violence: Two journalists killed in Veracruz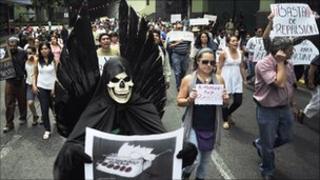 Two missing Mexican journalists have been found dead in the eastern state of Veracruz, prosecutors say.
The dismembered remains of photojournalists Gabriel Huge and Guillermo Luna had been dumped in bags in a canal along with two other bodies.
Their deaths come days after another reporter was killed in Veracruz.
Mexico is one of the world's most dangerous countries for journalists, with many killings blamed on drugs gangs.
Gabriel Huge and Guillermo Luna were reported missing on Wednesday after they did not return from an assignment.
Organised crime
Their bodies were found in the port of Veracruz in Boca del Rio municipality.
Prosecutors said both showed signs of torture and blamed organised crime for the killings.
Mr Huge - who worked for the newspaper Notiver - had recently returned to Veracruz after leaving the state following the murder of two colleagues last year.
Mr Luna - who was his nephew - worked for the photo agency Veracruznews.
Also discovered were the bodies Mr Luna's girlfriend, Irasema Becerra, and former photojournalist Esteban Rodriguez.
The bodies were found on International Press Freedom Day.
Last weekend another journalist in Veracruz - Regina Martinez of the national news magazine Proceso - was found killed in her home in the city of Xalapa.
A total of seven journalists have been killed in Veracruz since the beginning of 2011.
The state has been the scene of a bloody battle for control of drug-trafficking routes between two of Mexico's most powerful gangs - the Zetas and the Gulf Cartel.