Bolivians start second 'long march' against road plan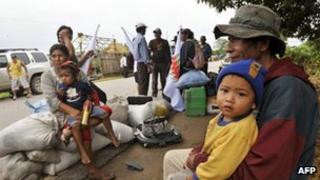 Hundreds of indigenous Bolivians have started a second long march in protest at government plans to build a road through the Tipnis national park.
They say the project would destroy their homeland in the Amazon forest. A similar march last year led President Evo Morales to cancel the project.
But he later backtracked after other communities said the road would bring economic development.
Mr Morales now says all communities in the region will vote on the road plan.
After a religious ceremony, around 300 indigenous people including women and children marched off to the sound of drums from the city of Trinidad, in the Amazon, heading for Bolivia's main city, La Paz, high in the Andes.
The protesters are again planning to walk for more than 500km (300 miles), hoping to attract more supporters as they go.
The Confederation of Indigenous Peoples of Eastern Bolivia (CIDOB) is aiming to repeat last year's success when a similar march ended with large demonstrations in La Paz.
After two months on the road, the group forced the Bolivian government to scrap the construction plan and to declare the Tipnis off limits.
But after coming under pressure from supporters of the highway, President Morales has signed new legislation giving all communities inside the park a vote on whether they want the road.
The government insists the road will bring development to poor and isolated communities.
The BBC's regional reporter Mattia Cabitza says the latest march comes at a time when President Morales is facing opposition and demands for better conditions and pay rises from all fronts.
He says days of separate demonstrations from students, doctors, miners and teachers have at times paralysed La Paz, and posed a challenge to the authorities.