Colombian army has growing role in flood defence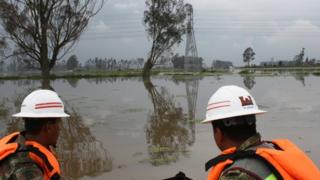 The grey skies over Bogota herald rain and this, for Colonel Henry Dussan of the Colombian Military Engineers, means work.
With most of Colombia's 32 regions suffering from flooding, there is plenty to do.
The country has seen widespread flooding in recent years, with some 3.6 million people, about 8% of the population, affected.
2012 seems set to continue this pattern.
The army engineers have been busy evacuating people and livestock from disaster zones, working on roads, combating landslides, building emergency bridges and delivering aid.
They were recently summoned to try to block off a burst river bank in one municipality of the capital Bogota.
Weaving through the traffic to reach the flood plains around the Chicu River, it was easy to spot the engineering problems.
Col Dussan pointed out huge potholes in the streets, complaining that infrastructure was placed on delicate and unstable wetland.
This is Bogota's main problem. The capital lies at an altitude of 2,600m (8,530ft), and is criss-crossed by countless rivers that are constantly at risk of overflowing.
Indeed Colombia as a whole, with its varied topography ranging from huge flood plains and savannahs to volcanic regions and the Andes, is more at risk than most from natural disasters.
It was clear that we were nearing the disaster zone as cattle grazing on the city's edges were searching for dry pasture on the berms of the highway.
Road to hell
The bustle along the banks of the Chicu River was one of controlled urgency as the waters continued to rise and the skies darkened.
The unspoken agreement among the engineers was that the rains would come again and slow their progress.
Continuing our journey by boat through the flood plains, the owner of a nearby stud farm pointed out that our dinghy was in fact several metres above an actual road.
"This is the Ruta al Infierno," said Edgar Gonzalez. The road to hell.
People dependent on farming this land are among those who are suffering most.
Pedro Pasochoa, a farm labourer, has had to move his family three times in as many years.
"And now we had to leave once again," he said.
"It's a painful sight to lose all of your belongings and have to move year after year for the same reason," said Argelia Correa, also a farm worker.
Weather permitting, the army engineers, with a full team of 160 men working 24 hours a day, were aiming to have the riverbank plugged again in a week.
For many years, the Colombian army's primary focus has been the fight against guerrillas, but with the rebels weakened, the military is turning some of its attention to other challenges.
"Some day the conflict in Colombia has to end, yes or no?" said Col Dussan on the drive back to the army engineers' headquarters in Puente Aranda in Bogota.
"We have seen the need to commit ourselves to works that have a more important impact
"Our depth of knowledge stemming from the conflict is immense and... we can export and share our skills in international disaster zones."
Future challenges
So will this humanitarian work help to speed along the process to peace in Colombia?
The colonel mulled this carefully before directing his driver on through traffic and says: "Our engineers are showing their worth in peace."
There has been a big increase in funding and an expansion of the Disaster Response Corps from just 13 battalions 10 years ago to the 26 nationwide today.
Just recently the army spent $90m (£56m) on disaster aid heavy machinery, teams and personnel to assist in such situations.
The authors of a recent World Bank study on urban flood risk management said Colombia had invested well in developing flood risk assessment.
But other voices have been more critical.
Refugees International found "significant shortcomings" in both the Colombian government's and international agencies' response to the flooding last year.
Following a visit to Colombia in February, the humanitarian group told Colombia Reports that there had been major improvements, but the authorities were still falling short in efforts to relocate and get aid to flood victims.
On 24 April, President Juan Manuel Santos enacted a law aimed at improving natural disaster response and prevention at both national and local level.
With more than 60,000 people affected so far this year and the rains forecast to continue until June, Col Dussan and his engineers are likely to be as busy as ever in the coming weeks.