Mexico election: Enrique Pena Nieto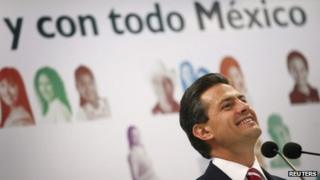 Enrique Pena Nieto came to national prominence when he was elected governor of the State of Mexico - the country's most populous state - in 2005.
He governed for six years, cementing his position within the political machinery of his Institutional Revolutionary Party (PRI), which dominated Mexican politics for much of the 20th Century.
Mr Pena Nieto, 45, has been presented as the new face of the PRI, a break with the party's long and at times murky past.
Mr Pena Nieto built his reputation on the "pledges" he set out for his governorship in the State of Mexico, focusing on public works and improvement of infrastructure.
He began his presidential campaign in a similar fashion, saying he would wage a "campaign of pledges".
'Most handsome politician'
Mr Pena Nieto enjoys close links with Mexico's most powerful television network, Televisa, from which he bought much airtime to promote his policies and cover his fulfilment of his "pledges" during his six years as governor.
His good looks - he is frequently dubbed Mexico's most handsome politician - have helped keep him in the media spotlight.
And his marriage in 2010 to Televisa soap star Angelica Rivera ensured coverage spread beyond the politics pages to the gossip magazines.
But while Mr Pena Nieto might be among the most recognisable of Mexico's politicians, his critics dismiss him as a lightweight.
He was mocked for his inability to name or remember any book that had influenced him, when asked at a literary event last December.
He was also lambasted for not knowing the price of tortillas, a food staple, arguing he was not "the lady of the house".
His opponents say that far from being a fresh face, Mr Pena Nieto is closely linked to the PRI's old guard.
During the election campaign, he became the target of student protesters who denounced his close ties to Televisa.
The UK's Guardian newspaper alleged that his campaign had bought favourable coverage from the broadcaster, charges Televisa angrily denied.
Mr Pena Nieto admitted in January that he had had affairs and fathered two children during his first marriage, admissions that did little to dent his popularity.
Mr Pena Nieto has promised to improve the living standards of ordinary Mexicans.
He said he would work to tackle the drug violence that has led to more than 50,000 deaths, focussing on reducing murders, kidnappings and extortion.