Peru troops free Shining Path hostages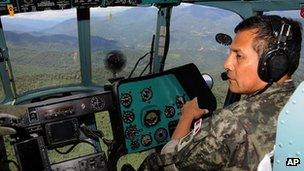 The Peruvian government says a group of gas workers kidnapped by Shining Path rebels on Monday has been freed.
Officials said hundreds of troops surrounded the rebels, forcing them into a hasty retreat, during which they left their captives behind.
The government said all 36 hostages were safe.
There had been conflicting reports about the number of workers abducted, with some reports putting the number as high as 43, and others as low as 7.
"As a result of the energetic pressure and the tactical and intelligence operations carried out by the Armed Forces and the National Police, the criminal narco-terrorists were surrounded and forced to flee, freeing their hostages in the process," a statement by the Ministry of Defence said.
The government said it had not paid any ransom for the hostages' release.
The rebels had reportedly demanded a one-off payment of $10m plus an annual "war contribution" of $1.2m, as well as explosives.
But Justice Minister Juan Jimenez told a local TV station on Thursday that the government did "not negotiate with terrorists, the government acts within the law".
The authorities sent 1,500 troops to the area.
A policewoman was killed on Thursday during the search for the rebels, when the helicopter she co-piloted came under fire by alleged rebels.
Two other crew members were injured.
The workers were abducted on Monday morning in the Apurimac and Ene valleys, the last remaining stronghold of the Shining Path rebels.
The Maoist group posed a major challenge to the Peruvian state in the 1980s and early 1990s, but is now reduced to small gangs involved in cocaine trafficking.
Last week, Peruvian President Ollanta Humala said the Shining Path had been "totally defeated" in the Alto Huallaga Valley, once one of its key regions.
The hostages were building a new plant for gas from the huge Camisea field.
Peruvian President Ollanta Humala, who is attending the Summit of the Americas in Colombia, said he would fly to the area to meet the released hostages as soon as he returned to Peru.