Obama: 'Drug legalisation not the answer to drug war'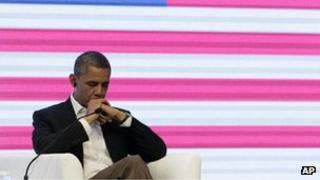 US President Barack Obama has said that legalising drugs is not the answer to the problems caused by the trafficking of illegal narcotics in the Americas.
Mr Obama told a gathering of leading executives in Colombia ahead of the Summit of the Americas that legalisation could worsen the problem.
But he said that he was open to a debate about the issue.
The US president was responding to demands by regional leaders for a new drug war strategy.
On Friday, Guatemalan President Otto Perez Molina told BBC Mundo that the current strategies against drug trafficking were making the war on drugs unwinnable.
"We call for a responsible, serious dialogue in which we scientifically analyse what is happening with the war on drugs", he said.
Divisive issue
President Obama said the answer to the increasing power of drug cartels in the hemisphere was to encourage societies with strong economics, rule of law, and a sound law enforcement infrastructure.
"I personally and my administration's position is that legalisation is not the answer, that in fact if you think about how it would end up operating, the capacity of a large-scale drug trade to dominate certain countries, if they were allowed to operate legally without any constraint could be just as corrupting, if not more corrupting than the status quo," he said.
He was speaking hours before the leaders of more than 30 countries in the Western Hemisphere met at the Convention Centre in Cartagena, Colombia, for the Americas Summit.
The summit's official theme is "connecting the Americas" but the host, Colombian President Juan Manuel Santos, and other regional leaders have expressed their desire to discuss a new strategy in the war on drugs.
President Obama's arrival in Cartagena on Friday was overshadowed by news that around a dozen US Secret Service agents had been recalled from the city amid allegations of misconduct, with reports suggesting accusations of prostitution had been levelled against at least one of the agents.
On Saturday, the US military confirmed five of its members staying at the same hotel in Colombia may have been involved in misconduct as well.