Rio de Janeiro festival brings literature to favelas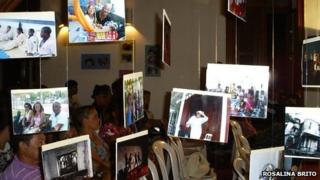 Every July, the celebrities of the publishing world gather in a small town on the lush coast of Rio de Janeiro state.
They are drawn to Brazil by a literary festival that has already been attended by renowned authors including Martin Amis, Margaret Atwood and Paul Auster.
The warm reception and idyllic setting prompted British novelist Ian McEwan to refer to the Paraty International Literary Festival, or Flip, as it is known , as "like being in A Midsummer Night's Dream".
Brazil is not an obvious choice for an international literary festival.
Book sales are still relatively low and although there has been an improvement in literacy rates, some 14 million Brazilians, especially those older and poorer, cannot read or write.
Now Brazil has an alternative festival devoted to the written word. This one, though, has a grittier setting - Rio de Janeiro's favelas or shantytowns.
Julio Ludemir, the man who came up with the idea, wanted to bring the pleasures of literature to a wider audience and to focus on the writing talents of the most marginalised, namely the favela residents themselves.
All the favelas taking part have a permanent police presence, known as UPPs, or units of police pacification, deployed to drive drug dealers out of the slums.
The new festival, named Flupp (Literary Festival of the UPPs), got under way this month, holding sessions in the Prazeres favela and running a competition to find the best writing.
Some 13 sessions in total will have taken place by the time the festival ends on 14 July, when the 30 top entries will be selected and published in a book.
Voracious readers
The festival's curator, Toni Marques, says the goal is to show that the favelas can be fertile soil for literature.
"We want people to see how life in the community is raw material for writing, like any reality," he said.
Contributor Jessica Oliveira, 19, said: "I write about my everyday life. That doesn't include Christ the Redeemer, the postcard image of Rio de Janeiro, because even though I live in Rio, I've never been to see the statue."
Among those contributing creative writing to the event are police officers deployed in the slums.
Ms Marques explains their involvement, saying it was the police who "created the conditions for a cultural project which is a long way from the stereotype of what people from favelas are into".
The idea that people living in Rio's slums only want to play football or capoeira is far from the truth, as is the idea that they are only interested in spending their new-found disposable income on consumer goods, according to Flupp's organisers.
"We discovered that there is as much of an appetite for culture in these areas as there is for new mobile phones and televisions," said Mr Ludemir.
"Everyone's talking about this emerging class in Brazil, and its new power to buy consumer goods. Nobody realises they are also voracious readers."
My life
Nevertheless, statistics suggest that Brazilians have a long way to match the reading habits of their neighbours in Colombia or Argentina.
According to a 2010 survey by the main industry organisation, the Brazilian Book Chamber (CBL), only a third of Brazilians class themselves as regular readers, meaning they have read a book in the last three months.
There is evidence, however, that this is changing.
In 2010, book sales in Brazil increased by 8.3% on the preceding year, and have continued to grow, according to the CBL.
In many cases, people are reading the Bible or other religious titles, such as Father Marcelo Rossi's Catholic self-help book Agape, a publishing phenomenon that sold 7.5m copies in Brazil last year.
But books, like many consumer goods, are also prohibitively expensive for a large number of people.
The organisers of Flupp have found that in many cases, those without the 30 Brazilian reais (£10, $15) to spend on a paperback had found cheaper ways to feed their reading habit.
"As well as a big market in second-hand books, young people download bestsellers from the internet in English, then use Google Translate to read them in Portuguese," said Mr Ludemir.
Flupp's organisers hope their event will help to give favela residents a voice of their own.
"I love it when someone reads what I have written, laughs and says 'that happened to me!' I want people to identify with what I write," said Ms Oliveira.
"I am from the outskirts but we have a culture just as rich and diverse as the richest parts of town."