Viewpoint: Brazil's education challenge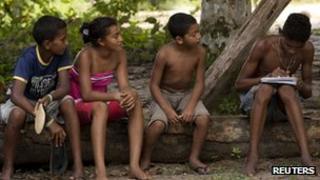 As an emerging nation striving to strengthen its economy, Brazil is making serious investment in scientific education.
Seeking to build a skilled and productive workforce, President Dilma Rousseff has made a point of expanding programmes that encourage families to enrol their children into schools.
She has also launched initiatives, such as the Science Without Borders programme, which aims to send thousands of students to universities abroad, including the US.
It is a bold and ambitious effort but there are several caveats.
With more job opportunities in the US and other countries, the Science Without Borders programme could lead to an exodus of Brazil's most talented individuals.
And is the 3.6bn reais ($1.9bn) allotted to this programme a good use of resources, given the poor performance of the country's primary and secondary schools?
Must do better
Brazil pales in comparison to many nations when it comes to student learning and achievement.
In the most recent available data, from 2009, an OECD Pisa (Programme for International Student Assessment) study ranked Brazil 52nd out of 65 countries in reading and science.
In mathematics, the results were even worse: 56th out of 65.
According to a 2006 Unicef study, Brazilian teachers are often poorly educated and teach on subjects they know little about, while no federal programme exists to better train and monitor their performance.
Money is also needed to improve infrastructure, with many primary and secondary schools facing a shortage of desks, chairs, and supplies.
Given these gaps, President Rousseff has been committed to strengthening the quality of Brazilian education.
This has included offering technical and financial support to schools, especially in rural areas.
There has been an increase in the number of qualified teachers, and funding has come through to improve infrastructure and technology, such as providing iPads in classrooms
Access to education, helped through the Bolsa Familia programme, has continued to widen under President Rousseff.
This provides monthly grants for families on condition that parents send their children to schools and ensure they receive immunisation shots.
Ms Rousseff has also created the Brasil Sem Miseria (Brazil Without Misery) programme, which increases families' monthly benefits while providing vocational training, micro-credit and jobs.
But perhaps the boldest move came last year, when Ms Rousseff implemented the Science without Borders programme.
Under this, the Ministry of Education and the Ministry of Science and Technology are sending 100,000 students on scholarships to foreign universities, while agreeing to host students from other countries.
Brazilians participating in this programme are likely to be enrolled for up to a year, with the expectation that they will return to Brazil.
These scholarships are explicitly designed for courses on topics ranging from maths, physics, and biology, to aerospace, oil, gas, and biotechnology.
The government is committed to funding 75,000 scholarships, and the private sector 25,000.
So far some 650 students are in in the US, with another 1,500 scheduled to arrive later this year.
The overall goal is to strengthen the level of knowledge and training in science, technology, engineering and mathematics.
It is an effort that is much needed considering the continuing demand for skilled labour in Brazil.
The aim is also to strengthen Brazil's co-operation with the US through the sharing of knowledge and technical resources.
But there are questions over the programme's proposed benefits.
Next generation
Given the comparatively greater number of hi-tech industries and research institutions in the US and Europe, students may decide to stay or ultimately base themselves abroad.
This potential loss could be encouraged by the fact that there is no penalty for those students opting not to return.
Furthermore, this programme may have been implemented for other non-educational reasons, such as strengthening Brazil's ties with the US and achieving other geopolitical objectives.
One of the aims of President Rousseff's recent trip to Washington was to smooth tensions over issues such as Syria and Iran.
Brazil also needs the blessing of the US to secure a permanent seat on the UN National Security Council, as well as support for Brazil's increased influence within the World Bank and IMF.
President Rousseff's efforts to invest in youth education through the Science without Borders programme are both welcome and much needed.
But before aspiring to build a world-renowned, technically sophisticated workforce, perhaps President Rousseff should invest more in her primary and secondary schools, where the future of Brazil's scientific and technological progress truly resides.
Eduardo J Gomez is assistant professor in the Department of Public Policy and Administration, Rutgers University, Camden, New Jersey