Mexico shaken by two earthquakes in 24 hours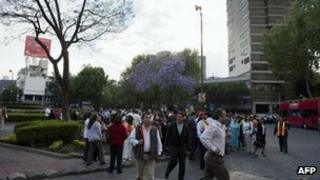 A 6.9-magnitude earthquake has struck off Mexico's Pacific coast, the second to hit the area in the last 24 hours.
The quake struck in the Gulf of California, 127km (78 miles) northeast of the town of Guerrero Negro, in Baja California, the US Geological Survey said.
No immediate damage was reported, and no tsunami warning has been issued.
An earlier quake with a magnitude of 6.5 struck in the mountains of the western state of Michoacan.
That tremor, which took place eight hours earlier, caused buildings to sway as far away as Mexico City, some 200 miles (322 km) away, but there were no casualties reported.
"You could feel it, but there's no major damage. There are no reports, no emergency calls," Agustin Lule, a spokesman for the fire services in Uruapan, a town in Michoacan, said on Wednesday.