Gunmen kill eight taxi drivers in Mexico's Monterrey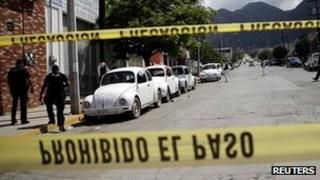 Eight taxi drivers have been shot dead on the outskirts of the northern Mexican city of Monterrey.
The men were killed in separate attacks on two taxi ranks in the same area of the suburb of Guadalupe.
Police sources said the drivers were operating without permits. At least two bystanders were wounded in the shootings, including a young girl.
The industrial city of Monterrey has in recent years been hit by a wave of drug-related violence.
Monterrey has become a battleground for the rival Zetas and Gulf drugs cartels, who are fighting for control of smuggling routes into the US.
Correspondents say Mexican taxi drivers have been targeted for refusing to pay extortion payments or because they were suspected of working for rival gangs.
A security spokesman for the state of Nuevo Leon, Jorge Domene Zambrano, told the AP news agency that police are investigating a former driver who threatened co-workers after being sacked for allegedly selling drugs.
Last year, 52 people died in an arson attack on a Monterrey casino that was reportedly the work of the Zetas.