Peru Shining Path rebels demand hostage ransom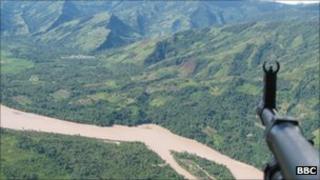 Shining Path rebels who kidnapped a group of gas workers in southern Peru are demanding a $10m (£6m) ransom for their release, officials say.
They are also demanding explosive detonators and other equipment from energy companies operating in the remote jungle region.
There is uncertainty about the number of workers being held.
Some reports say there are as many as 40 hostages while others say all but eight have been freed.
The workers were seized from a camp in the village of Kepashiato in the southern region of Cusco, where they were building a new plant for gas from the huge Camisea field.
The area is close to the Apurimac-Ene valley - one of the last remaining strongholds of the Shining Path.
The Maoist group posed a major challenge to the Peruvian state in the 1980s and early 1990s, but is now reduced to small bands involved in cocaine trafficking.
Its last major leader, known as "Comrade Artemio", was captured in February.