Suspected Shining Path rebels kidnap Peru gas workers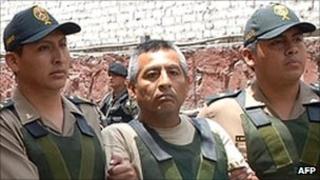 Suspected rebels in Peru are holding seven workers they kidnapped from a natural gas project, police say.
The Shining Path rebels are reportedly demanding the release of their captured leader "Artemio".
The gunmen initially seized 30 workers on the Camisea natural gas development in the southern region of Cusco, but were later said to have released 23.
Artemio, one of the last leaders of the once-powerful Shining Path movement, was captured in February.
The Maoist group posed a major challenge to the Peruvian state in the 1980s and early 1990s, but is now reduced to small bands involved in cocaine trafficking.
The Camisea project is a major development bringing natural gas from the Amazon across the Andes to consumers throughout Peru.
The workers were seized in a remote jungle region not far from the Apurimac-Ene valley - one of the last strongholds of the Shining Path.
They are employees of Swedish company Skanska, which services Peru's main natural gas pipeline, officials said.