Rio's funk parties silenced by crackdown on gangs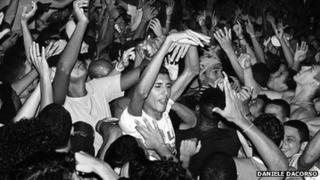 The rumbling of the bass from Rio de Janeiro's baile funk parties was once a familiar sound throughout the Brazilian city every weekend.
But over the past few years, the parties have been gradually banned in many places, with the music confined to police-controlled events and sanitised venues.
The silencing of the parties has come as part of a wider crackdown under what are known as UPPs (Pacifying Police Units).
These form part of a major army and police security operation launched to dismantle the power structure of Rio's armed drug gangs, which controlled many of the city's slums, or favelas.
So far UPPs have been installed in 19 Rio favelas, and there are plans to expand into more shanty towns before the 2014 Fifa World Cup in Brazil and the 2016 Olympics, which the city will host.
The funk parties, often suspected of funnelling funds to organised crime, were often patrolled by heavily-armed gang members.
The police say they acted to stop the parties altogether in many slums to prevent criminals from profiting from them.
They also acted to curb the noise which they said disturbed favela residents and people in neighbouring, often middle-class, areas.
But the move angered fans of the hugely popular music, who protested that they were being silenced.
Not after 2am
In one slum, Cantagalo, police arrived at a compromise after people there complained about the ban.
Lieutenant Caio Pesqueira, who patrols Cantagalo as part of the UPP, said the all-night parties affected local people and neighbours in adjacent Ipanema, one of Rio's richest areas.
"We have agreed that the parties can continue until 2am, but underage people are not allowed to go," he said. "I would prefer young people to be involved in something constructive than turn to crime."
Funk musician MC Leonardo says the bans are nothing to do with noise pollution but are prejudice against Rio's poorest citizens, many of whom enjoy the music.
It is also a blow against a unique part of Rio de Janeiro culture, he says.
"I haven't seen anything as shameful as the UPPs since the military government in Brazil. Peace is a feeling, you cannot impose it on people," said MC Leonardo.
"Funk is a language that the guy who lives in a favela understands. Funk lyrics are about his life. We are not going to win people over by criminalising them, we need to use funk to open the discussion."
The baile funk parties took off in Brazil's second largest city in the 1980s, adapting the repetitive beat from Miami Bass music with hard-hitting rap lyrics and infectious melodies.
While men use elaborate footwork, the dance for women tends to be sexually charged, with a lot of swaying from the hips.
Baile funk music has become popular internationally and influenced artists such as M.I.A.
But the lyrics have attracted controversy because of their often explicitly sexual or violent content.
A brand of funk known as proibidao, Portuguese for banned, is famed for its hard-hitting songs about gang violence and violent images on Youtube.
In one, entitled Forgive me mother, by MC Dodo, the singer asks his mother for forgiveness for choosing a life of crime, over news footage of a mother throwing herself on her dead son's body following a shooting.
Four funk musicians were imprisoned during a major operation by the security forces to regain control of a huge area of slums on the outskirts of Rio, Complexo do Alemao, in November 2010.
The police used their lyrics as evidence of links with the gangs that for many years ran the favelas in the region.
"They were singing about what they knew. Nobody can be put in prison for that," MC Leonardo said.
Going mainstream
Because of the bans, funk music is now often played in casas de show, large, air-conditioned venues where the original raw sound is accompanied by dancers and light shows.
The music has appeared on popular television shows for children and even party political broadcasts.
For some fans, that is a sign that the glory days of funk are now in the past.
"I used to go to the parties, but I haven't been for about two years, even though it's safer now. I don't think it's the same since the police took control of the community, the atmosphere is different," said funk fan Rodrigo Alves.
The police and the army are gradually taking control of more of Rio's slums, but tensions remain high in Rocinha, thought to be Brazil's largest slum.
Attempts to install a police presence there, which began last November, have not run as smoothly as in many other slums.
Clashes between police and drug gangs led to nine deaths in Rocinha in a month, including that of a policeman.
One such clash occurred at a baile funk party.
Meanwhile, music from Rocinha's funk parties continues to attack the police and rap about the day when the drug dealers will come back and regain control of the slums.