Rio's love motels to help fix UN summit bed shortage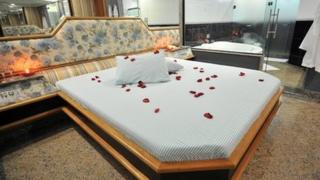 Rio de Janeiro motel owner Secundino Lema is gearing up for a different kind of guest in June when thousands of visitors will be in his city to discuss the future of the planet.
The erotic chairs that usually grace the rooms in his three establishments, Hawaii, Skorpios and Serramar are going.
But the mirrors on the ceiling and jacuzzis are staying.
Mr Lema, along with other owners of Rio's 320 "love hotels", is stepping in to help the authorities fill a huge need in the Brazilian city - the chronic lack of accommodation.
It is estimated that some 50,000 people, including world leaders, will be in Rio de Janeiro for the UN Conference on Sustainable Development, but there are only 30,000 rooms available in what might be termed more conventional hotels.
All Mr Lema's rooms are booked for the conference which gets under way on 13 June, with the main event running from 20-22 June.
He agreed to charge $160 (£100) a night, much less than what is now being asked by the few hotels still with rooms available.
It is also less than he would expect to earn from the couples who usually pay to rent his rooms for periods of four, six or 12 hours.
Mr Lema, who says he is doing this "for the city", also agreed with the authorities that he would not offer rooms by the hour while the UN summit was on.
That means turning down the 2,000 guests he would normally put up in his 170 bedrooms.
"It will be awkward not being able to receive our usual clients during this period, but I hope they understand the need to host people from abroad," Mr Lema said.
The "love hotel" business boomed in Rio over the past few decades as somewhere discreet for couples to go but in recent years has seen a decline.
Antonio Cerqueira, vice-president of Rio's hotel, bar and restaurant association (SindRio), links this to more liberal attitudes to sex developing in a still somewhat conservative Brazil.
"Habits are changing. Young people used to crave turning 18 so they could go to a motel, but now even when they are 16 they sleep over at their boyfriend's or girlfriend's. Parents now allow it because they consider it safer."
Special day
But with Rio set to be a host city of the 2014 Fifa World Cup and be the venue of the 2016 Olympics, love motel owners have spotted a business opportunity and realised growth is in the corporate sector.
Mr Cerqueira, who himself owns Shalimar and Sinless (slogan: Because love is not a sin), says about a third of the motels are now ready to receive all types of guest.
Their new decor aims to strike a balance between love and business.
Motel owners have stripped off the velvet wall coverings, removed more quirky items such as the erotic chairs, and brought in more light.
But many of the rooms, reached by private garages, still have round beds, and other added extras.
"The new guests will like it. They can get back to their motel and have a bath in the whirlpool while watching the news," says Mr Cerqueira.
But Mr Lema is still remaining partly loyal to his love motel roots.
While agreeing to let his rooms to conference guests, he had one demand: to keep Brazil's Dia dos Namorados or Lovers' Day out of the negotiations.
That special date is 12 June - just a day before events at Rio +20 begin.
But it is also the busiest time of the year for motels.
"All our rooms get full," Mr Lema says.