Mexican troops shoot dead 'casino arson plotter'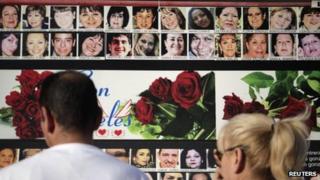 One of the alleged plotters of last year's deadly arson attack on a Mexican casino has been killed in a gunbattle with troops, the defence ministry says.
Francisco Medina Mejia and three other gunmen were shot dead near the northern city of Nuevo Laredo, officials said.
The fire at the casino in Monterrey, which killed 52 people, was reportedly the work of the Zetas drug cartel.
Other suspects arrested over the fire say the casino was targeted because the owners had not paid protection money.
The torching of the Casino Royale in broad daylight shocked Mexico.
Some 20 people, including at least three other alleged masterminds, have been arrested in connection with the attack.
Mr Medina Mejia, known as El Quemado or The Burned One, was said to be an aide to Miguel Angel Trevino, one of the top leaders of the Zetas.
The Zetas are one of Mexico's most powerful and violent drugs gangs, and have been expanding their influence in recent years.
Monterrey - a major industrial city close to the border with Texas in the US - saw rising violence last year as the Zetas battled the rival Gulf cartel for control of territory and smuggling routes.