Chile's Congress approves most of hate crime law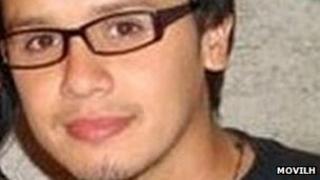 Chile's Congress has approved most of an anti-discrimination law, a week after a gay man died as a result of an attack by suspected neo-Nazis.
The Chamber of Deputies voted 58 to 56 in favour of the legislation, which was first proposed seven years ago.
But several clauses still need to be finalised, meaning the bill now goes to a joint Chamber-Senate committee.
The brutal assault on Daniel Zamudio sparked outrage and a fresh debate about hate crimes in Chile.
In the wake of Mr Zamudio's death, the government pledged to increase efforts to pass the anti-discrimination law.
The bill would make it a crime to discriminate on the basis of race, ethnicity, religion, sexual orientation, gender, appearance or handicap.
There has been opposition from some Churches, which argue the law could be the first step towards gay marriage.
During Wednesday's session, the lower house held a minute's silence in memory of Mr Zamudio.
After fours of debate, deputies voted in favour of most of the law but rejected several clauses proposed by the Senate, which approved the law last November.
The text now goes to a House-Senate committee to produce a final version.
Swastika symbols
Government spokesman Andres Chadwick called the vote on the proposed law a "significant step".
"We're on the way to having a law that fosters respect and tolerance for every human being in our country," he said.
Chile's Movement for Homosexual Integration and Liberation (Movilh) welcomed the decision to send the bill to a joint committee to be finalised and "improved".
The group called for the legislation to take effect as soon as possible, so "every Chilean man and woman... can count on a law that addresses the brutal attacks that currently go unpunished."
Mr Zamudio, 25, was left with severe head injuries and a broken right leg after being attacked on 3 March. Swastika symbols were carved into his body.
The four suspects deny attacking him and deny being neo-Nazis.
Prosecutors are seeking murder charges.