Mexico extradites drug lord Jesus Zambada to US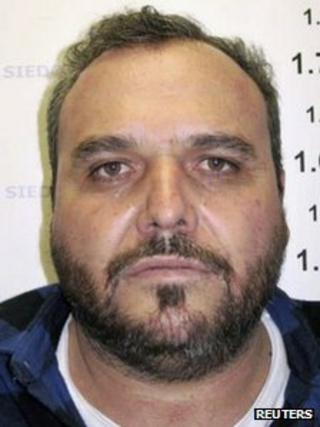 One of Mexico's biggest alleged drug lords, Jesus Zambada, has been extradited to the United States.
Known as "The King", Mr Zambada is charged with running a huge cross-border drug-trafficking operation.
An indictment filed in New York accuses him of being one of the ringleaders of the powerful Sinaloa cartel.
Outgoing Mexican President Felipe Calderon has pledged to arrest the country's top drug traffickers before he leaves office.
Jesus Zambada, who was first arrested in Mexico City in 2008, is accused of smuggling some 120 tonnes of cocaine with an estimated street value of $10bn (£6.3bn) into the US by air, land and sea.
Mexican officials said on Wednesday that he had been removed from a maximum security prison near the US border and put on a plane to New York, where he will face charges.
The Sinaloa cartel, which he reportedly led alongside his brother, Ismael, is also accused of carrying out hundreds of acts of violence, including murders, kidnapping and torture.
The arrest of Mr Zambada puts pressure on the man thought to have been his former boss, Joaquin "Shorty" Guzman, currently the world's most wanted drug trafficker with a $5m dollar reward on his head.