Freed Colombian hostages: 'We spent years in chains'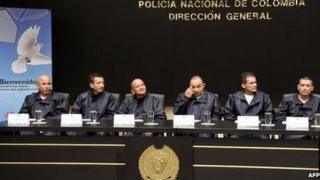 Colombian soldiers and police officers taken hostage by rebels have been describing how they spent years in chains and constantly feared death.
"For many years we were chained to each other. That was humiliating," police officer Carlos Jose Duarte said.
Their stories emerged a day after the six police officers and four soldiers were freed by Farc rebels.
The rebels, who have been fighting the government for five decades, still hold an unknown number of civilians.
A day after they were freed and had an emotional reunion with their families, several of the former hostages addressed a news conference in Bogota.
"Our lives were at risk every day," police officer Wilson Rojas Medina said alongside five of his police colleagues.
All the hostages had been held for more than a decade.
'Expecting a bullet'
"We were chained up for eight long years," Sgt Luis Arturo Arcia, who was held for 14 years, also told reporters.
""What's more we were chained in pairs, sometimes we were chained by the feet, and sometimes by the hands."
In September 2009, police officers Jose Libardo Forero and Jorge Trujillo gave the guerrillas the slip.
They spent a month wandering lost in the jungle before they were recaptured by the rebels.
"I was expecting a bullet. I put my head down so they could kill me. Thank God that didn't happen."
The former hostages also spoke of their colleague, Luis Fernando Bonilla, who was kidnapped in July 1999.
"In December 2001, they separated him from the group we were in and we never heard of him again," the police officers said.
The men are said to be in relatively good health and have been having a series of medical tests.
Their release has intensified calls for the Farc rebels, who have said they have stopped kidnapping for ransom, to free all the people they are holding.
Some 400 people are believed to have been kidnapped by the Farc for money, but the number actually in Farc hands is certain to be much lower, says the BBC's Jeremy McDermott.
Other armed groups and criminal gangs are also involved in kidnapping.
President Juan Manuel Santos welcomed Monday's releases but said this was "not enough" to open direct peace talks.
The Revolutionary Armed Forces of Colombia have been fighting the government since the 1960s.
But over the past decade they have suffered a series of setbacks, losing several top commanders and much of their strength.