Venezuela's Hugo Chavez resumes Cuba cancer treatment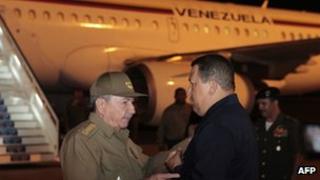 Venezuelan President Hugo Chavez says he is returning to Cuba for another round of cancer treatment.
Mr Chavez, 57, is having radiotherapy after surgery to remove a second tumour from his pelvic area in February.
The Venezuelan leader said he was determined to overcome cancer and win re-election in October.
The exact nature of his cancer has not been disclosed, fuelling rumours that his health may be worse than officially stated.
Mr Chavez had made clear that he would be "coming and going" between Venezuela and Cuba during his treatment.
Last year, the Venezuelan leader had surgery and four rounds of chemotherapy in Cuba, after a baseball-sized growth was detected in his pelvic region.
After the treatment he had said he was free from cancer, only to suffer a recurrence that required surgery in February.
In October's election, he is facing a strong challenge from opposition candidate Henrique Capriles Radonski.
Mr Chavez, in power since 1999, is seeking another six-year term to continue his programme of "socialist revolution".