Brazil ex-President Lula's cancer treatment 'a success'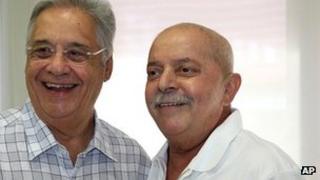 Former Brazilian President Luiz Inacio Lula da Silva's treatment for throat cancer has been successful, doctors say, with tests showing the "absence of a visible tumour".
Lula, 66, was diagnosed with the cancer in October last year and given chemotherapy and later radiotherapy.
He said on Wednesday he intended to return to active politics.
The former president stepped down with record approval ratings at the end of 2010, after two terms in office.
"I will return to political life because I believe Brazil needs to continue to grow, develop, generate jobs, improve the lives of millions and millions of Brazilians who managed to enter the middle class... as well as those who dream of joining the middle class," he said in a video message.
Brazil's constitution prohibits a third consecutive presidential term, but there had been speculation that he might stand again in 2014 if his successor Dilma Rousseff decided not to seek re-election.
Lula said he had been given "the most important piece of news a human being can receive after a five-month treatment against cancer".
"Nuclear magnetic resonance and laryngoscopy exams show the absence of any visible tumour," a statement from the hospital said.
It added that the former president would continue speech therapy, and that his progress would be monitored further.
The AFP news agency quoted Jose Chrispiniano, a spokesman for Lula's foundation the Citizenry Institute, as saying that the cancer was "in complete remission".
Lula, a former smoker, completed three cycles of chemotherapy in December last year, before beginning radiotherapy.