Colombia forces 'kill 35 Farc rebels' in Meta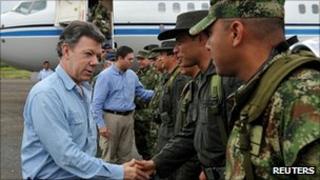 Colombia's armed forces have killed at least 35 Farc rebels in an attack on a jungle base in the central Meta region, President Juan Manuel Santos has said.
Several other members of the left-wing guerrilla group were captured.
It comes a week after troops killed nearly 40 rebels in Arauca near the border with Venezuela.
The Farc, Colombia's largest guerrilla group, have suffered repeated setbacks in recent years, including the deaths of several top commanders.
"This shows that our armed forces are continuing their offensive and are not going to stop," Mr Santos said at a meeting with security officials in the city of Villavicencio.
The operation was part of a new strategy aimed at tracking down and destroying key guerrilla units as well as the Farc leadership.
Decades-long fight
The Farc has recently indicated that it wants to reopen negotiations with the government after decades of armed conflict.
President Santos has said there can be no dialogue until the Farc releases all hostages and stops attacks.
Earlier this month the Farc confirmed that it was ready to release the last 10 members of the security forces it is holding captive, and said it would stop kidnapping people for ransom.
The releases are expected to begin at the start of next month.
Farc rebels have been fighting to overthrow the government since the 1960s.
Over the past decade they are thought to have lost about half their strength, with about 8,000 guerrillas remaining.
But they remain a powerful force in large areas of rural Colombia, thanks in part to money gained from the cocaine trade.
Earlier this month 11 soldiers were killed in an ambush in the Arauca region, in the deadliest rebel attack so far this year