Rival marches in Ecuador over Amazon mining plans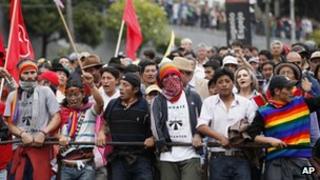 Two competing marches have been held in Ecuador's capital Quito, one in protest against the government's mining policies and one supporting them.
Indigenous groups from the Amazon region have marched for 700km (430 miles) to protest against plans for an open-cast copper mine in their region.
They say the mine will pollute water and force people off their land.
But Ecuador's President Rafael Correa says the mine will fund development and has rallied crowds of supporters.
'New era'
Thousands of indigenous people arrived in the capital on Thursday carrying a giant rainbow flag, having marched for two weeks from the Amazon rainforest town of El Pangui. They were joined by activists and members of a teachers' union.
Several police officers were injured when protesters threw sticks and stones near the parliament building.
Earlier, President Correa told thousands of supporters: "We need modern mining techniques - we shouldn't be stupid and close-minded."
The left-wing president said his government would "never talk to the corrupt right" and urged natives not to allow themselves to "be used".
Earlier this month, the Ecuadorian government signed an agreement with a Chinese mining company to invest $1.4 billion (£900m) in a copper mining project near El Pangui.
President Correa hailed the agreement as marking the start of a "new era" in Ecuador.
He said revenues raised from the mine and similar projects will fund roads, schools and hospitals, and local people will get a share of the money.
But Conaie - the Confederation of Indigenous Nationalities of Ecuador - says mining will damage the environment and displace entire communities. It wants indigenous people to be properly consulted about development on their ancestral lands.
The group played a leading role in the overthrow of two previous presidents in 1997 and 2000.
Conaie supported Mr Correa's rise to power in 2007, but has since fallen out with him over his development plans.