Ex-Fifa boss Joao Havelange 'seriously ill'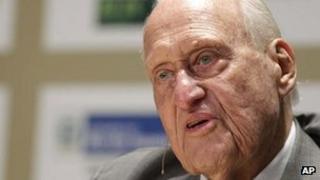 Former Fifa president and International Olympic Committee member Joao Havelange, 95, is in hospital with a serious infection, a Brazilian hospital has said.
He was admitted late on Sunday night and is receiving treatment.
Mr Havelange resigned from the IOC at the end of last year for undisclosed health reasons.
The Brazilian led the football world governing body from 1974-98; he was replaced by Sepp Blatter.
He remains honorary president.
"His condition is serious and requires close attention," said the statement signed by his doctor at the hospital in Rio de Janeiro.
He was put in a coronary care unit and was receiving intravenous antibiotic treatment, the AFP news agency reports.
When Mr Havelange resigned at the end of last year, he did so days before an ethics hearing into his conduct.
He had been facing suspension over his involvement with Fifa's former marketing agency International Sport and Leisure.
The case was closed after his resignation.
He is credited with turning football into one of the most important and lucrative sporting events in the world.
Mr Havelange is the former father-in-law of Ricardo Teixeira, who last week resigned as head of Brazilian football and as chief of Brazil's 2014 World Cup organising committee over corruption allegations.