Colombian soldiers killed in Farc ambush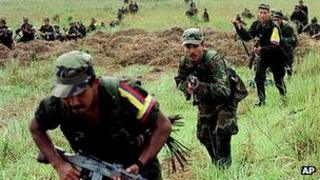 Ten Colombian soldiers and an officer have been killed in an attack by rebels from the Revolutionary Armed Forces of Colombia (Farc), the army says.
The attack happened in the south-east of Colombia near the Venezuelan border. Two other soldiers were injured.
The troops were ambushed while patrolling an area about 400km (250 miles) from the capital Bogota, officials say.
Correspondents say it is the worst rebel attack in many months.
Last October, Farc rebels killed a total of 20 soldiers in two separate attacks.
In the latest attack, the rebels are believed to have launched home-made missiles at the soldiers.
The area where the attack took place, Arauquita, is under exploration by oil companies and is often targeted by rebels.
The soldiers killed on Saturday belonged to a company in charge of protecting oil installations and roads used by petrol tankers.
The attack came on the same day as the Farc announced it was ready to release 10 soldiers and police officers it has held hostage for as long as 14 years.
However, the group said in a statement on its website that they were waiting for President Juan Manuel Santos to allow a group of activists to visit jailed fighters.
President Santos has said he will not open a dialogue with the Farc until all hostages are released and the group gives ample proof that it intends to disarm and rejoin civilian society.
The Farc officially renounced the abduction of civilians late last month.