Cuba Catholic dissidents occupy church in Havana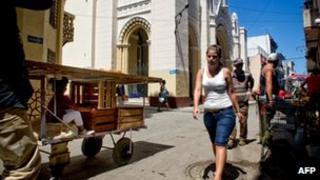 Thirteen Cuban dissidents have occupied a Catholic church in Havana, demanding an audience with Pope Benedict when he visits Cuba later this month.
The dissidents want the Pope to press Cuba's communist government on issues such as the release of political prisoners and an end to repression.
The Catholic Church in Cuba condemned the protest, saying places of worship should not be used for political demonstrations.
The Pope is due in Cuba on 26 March.
Dissident William Cepera said the eight women and five men had entered the Church of Charity of Cobre in central Havana on Tuesday night.
Peaceful occupation
They were staying in an area off-limits to worshippers.
The church has been partially closed, only allowing in pilgrims who have come to see the image of the Virgin of the Charity of Cobre.
Mr Cepera said the group was determined to meet Pope Benedict.
"We would like to talk to the Pope and tell him that the government of Fidel and Raul (Castro) has released only some prisoners, but other political prisoners remain", he said.
The Catholic Church in Cuba has acted as a mediator between dissidents and the government, successfully negotiating the release of 75 political prisoners over the past years.
But Cuban Catholic Church spokesman Orlando Marquez condemned the action and called on the group to leave immediately.
"Nobody has the right to disturb the celebratory spirit of faithful Cubans and many other citizens who look with jubilation and hope toward the visit of the Holy Father, Benedict XVI, to Cuba," he wrote in a statement.
Police are guarding the church but have not intervened.
Pope Benedict has not announced any plans to meet Cuban dissidents during his trip.
He will arrive on 26 March in the eastern city of Santiago, where he will meet Cuban President Raul Castro.
During his time on the island, he will also visit the shrine of the Virgin of Caridad del Cobre and travel to Havana, where he will say mass in the main plaza.